FIXED POSE ~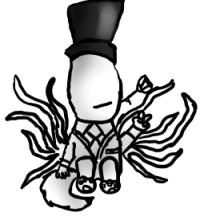 COLORED ~
This Is A Freebie For Myriad Members Only.
This pose is to be used only on Myriad.
Don't use this as a reference . This Is A POSE.
The "cross" On The face is to help locate the eyes and
facial features. This can be very helpful if you plan
on shading. You are more than welcome to "erase"
the "cross" by any means. You May NOT mod this pose in
anyway , shape or form !!!
That includes adding a face.
This is a "slender" wolf pose.